Lanyards are a great way to carry and display an employee badge, ID card, badge holder, keys or some other kind of credential at job sites of all kinds, from office buildings to hotels.
It's not hard to see why lanyards are popular: they're easy to use, they're customizable for a unique branding opportunity and they're an affordable accessory.
While most people are familiar with what a lanyard is and have an idea of what they're looking for, choosing the right lanyard can be tricky. It's hard to know exactly what you need.
You know the basics (you want to carry a card, of course), but things like material, end fitting and finishing option are going to vary depending on specific needs.
However, there's one particular industry where lanyards are frequently used that has unique challenges to consider when making a purchase: schools!
Yes, schools frequently use lanyards to wear ID badges, carry sets of keys or even as promotional items in a gift shop.
If you're interested in buying lanyards for schools, there are a few things we think you should consider prior to making a purchase.
Buying lanyards for schools? Do your homework first!
For the sake of this post, when we talk about schools, we're mainly referring to K-12 schools. While lanyards are also popular in higher education, those campuses present a different set of challenges, making advice for college lanyards different from K-12 advice.
1. Think about who will be wearing the lanyards (and where)
At an office building, buying lanyards is pretty straightforward: all employees are going to get one, which they'll wear sitting at their desks during the day. 
At schools, however, there's a wealth of things to consider:
Will students wear lanyards, or just teachers?
Will lanyards be issued to janitorial staff and administrators?
If students get them, should there be a minimum age?
For those reasons, one of the most important things you can do when buying school lanyards is determine what kind of card-carrying program you'll be running.
If

 

only staff

 

will be wearing lanyards with ID badges, you'll essentially have no barriers. You can

 

choose from hundreds of different lanyards

 

with a dozen end fittings and additional features. Because your staff is composed of adults, each person is responsible enough to use the lanyards safely.
If

 

staff and students

 

will be wearing lanyards, you need to consider ordering lanyards with a safety breakaway. Because schools are active environments, there are situations where a lanyard can become a tangling or snaring hazard.

 

Students should, almost without exception, wear only lanyards with breakaways. Lanyards with safety breakaways are also a good idea for staff who work around active students (i.e. gym classes, recess, etc.).
As you can see, determining who will be wearing a lanyard helps dictate what kind you get. Once you decide who's going to be participating in your ID program, you can better determine what kind of lanyard will meet your needs.
2. Do you want to take advantage of branding opportunities, or go generic?
The question of custom lanyards vs. standard lanyards is always going to be a fierce debate.
One side sees it as silly to not custom brand a lanyard; after all, it's essentially free promotion, right? The other side sees customization as a pricey adder to what's an otherwise affordable solution, eschewing custom in favor of something simpler.
Truthfully, there's no right or wrong answer: custom and standard lanyards are both great.
However, deciding whether or not you want custom branding goes a long way towards determining which lanyard styles are options for you.
For example, if you decided (up above) that you want a safety breakaway, and you subsequently decide you also want customization, you'll be limited to a handful of lanyard styles.
On the other hand, if you want a safety breakaway but don't need custom printing, you'll have hundreds of options to choose from.
For schools, custom branding your lanyards presents a unique opportunity. Not only does it allow your students and staff to show pride in your colors and logo, but it also presents an opportunity to earn the school some money by selling mascot- or team-themed lanyards at a school gift shop or sporting event.
3. Consider using your lanyards to promote a good cause.
For some schools, lanyards are more than just a way to carry a card or promote the school: they're a way to promote a good cause.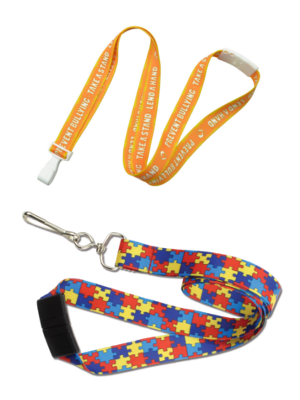 Lanyards, as surprising as it sounds, can be a way to send a positive message to both students and staff.
Before purchasing lanyards, schools should consider adding what we call "lanyards for a cause" to their offering. These lanyards help promote positive messages among students, creating a more accepting school culture.
Schools can use autism awareness lanyards to help educate students on how important it is to be accepting of everyone, or can use anti-bullying lanyards to create a school where students know to stand up to bullying and look out for one another.
Teachers can also wear these lanyards, perhaps initiating conversations with students on a particular cause in the process.
By adding lanyards with a cause to a school ID program, you can help create a more tolerant, respectful and welcoming atmosphere.
If you're interested in ordering standard or custom lanyards for your school, you've come to the right place! We offer dozens of unique lanyard styles, many of which are made in our own factories. Shop in our online store today, where you can choose the lanyard that fits your need using our Selector Tool or can design your own custom lanyards online.
Browse our lanyard offering and remember: online orders of more than $99 ship free!