Retractable badge reels, also known as retractable card holders, are a popular card-carrying accessory across a number of industries. They're convenient, easy to use and offer a great opportunity for custom branding.
While there are dozens of different kinds of badge reels, they fundamentally do the same thing: hold and display a card or key while allowing it to be pulled away from the body for scanning, swiping or opening doors. 
This functionality is one of the reasons retractable badge reels are so popular, as they keep a card or key readily available for use without it getting in the way or being inconvenient.
However, the main appeal of these card accessories is the ability to create custom retractable badge reels with a brand's logo, slogan or other relevant imagery. Custom badge reels are perfect for internal use displaying ID cards or badges, for promotional use as a marketing or giveaway item and more.
No matter the use, the result is the same: your brand, right there for every swipe of the card or turn of the key.
When it comes to creating custom retractable card holders, however, customers have a choice to make: which customization method do I choose?
What are the three badge holder customization methods?
We offer custom retractable badge holders with three different customization methods: multicolor flat labels, multicolor dome labels and TRUECOLOR digital printing.
Each customization method is guaranteed to produce quality results; however, each method has particular situations where it should be chosen over the other two.
Flat labels: Affordable, effective custom badge reels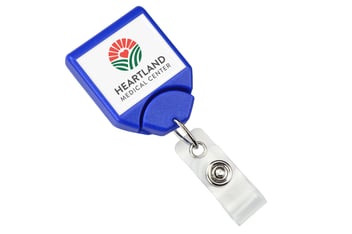 Standard multicolor labels, also known as flat labels, are the most affordable customization method. Flat labels are a simple, no-frills customization method that gets the job done: they display your custom imagery in bright colors on the face of your custom badge reel.
Think of flat labels as being like a sticker. An adhesive-backed material is printed with your custom design; that material is then applied to the face of the badge reel. Thanks to the adhesive, the flat label will stay in place once applied.
Flat labels can be printed with all kinds of colors, giving users options when it comes to choosing a logo design. One drawback to flat labels is that they can get worn down over time, resulting in fading or degradation in image quality.
Dome labels: Durable, attention-getting custom badge reels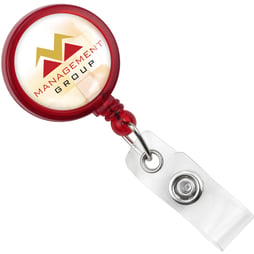 Dome labels offer all of the aforementioned features of flat labels, with an added bonus: a clear dome applied over the custom imagery. 
Essentially, the dome is a rounded, hard coating applied over the top of a flat label. By coating the label in the dome material, the label isn't exposed to the elements. This helps prevent the kind of fading or wearing out of the custom imagery that can occur over time with regular flat labels.
Dome labels are a popular choice for organizations where employees are active, work outdoors or are frequently exposed to water, dust or other debris. The dome acts as a protective barrier for the custom imprint, ensuring that the logo or graphic stays crisp and clear.
Dome labels offer the added benefit of a cool look: the dome is raised slightly off of the surface of the badge reel, giving it a professional appearance and helping attract attention to the logo below.
TRUECOLOR digital printing: Photo-quality imagery for custom badge reels
We call our digital printing process TRUECOLOR printing because it gives our custom products the most realistic imagery possible. Unlike the two customization methods mentioned above, TRUECOLOR printing doesn't use labels of any kind. Instead, ink is applied directly to the surface of your custom badge reels.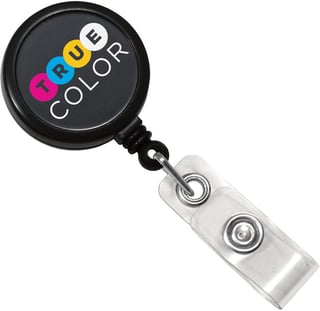 TRUECOLOR digital printing actually uses a similar process to the one used by standard inkjet printers: four color ink cartridges combine to create thousands of shades, ensuring lifelike color matching.
As your custom badge reels pass through the TRUECOLOR digital printers, the custom graphic being applied is cured by UV light. The UV light leads to a hardening of the ink, making it adhere to the product's surface more strongly and making it more resistant to damage.
The result is a full-color, photo-quality custom graphic applied directly to your custom badge reel's surface. TRUECOLOR imagery is resistant to cracking, peeling and fading, making it an excellent customization method for all situations.
---
All three of these customization methods will create great custom badge reels. However, it's clear that there are differences between the three.
To sum it up:
Flat labels are the most affordable option, perfect for a basic custom badge reel
Dome labels are the most durable option, adding an eye-catching, professional look
TRUECOLOR digital printing provides the highest image quality, perfect for making a brand stand out
The best part of all three of these methods? How easy it is to get them! We offer a fantastic, easy-to-use design your own custom badge reelstool on our website.
You can choose your retractable badge reel style, color, end fitting and any of the customization methods above. Upload your logo, choose your quantity and your reels will be on their way to the presses.
As an added bonus, all online orders over $99 ship for free! Check out our tool by clicking the button below and you'll have the perfect custom retractable card holders in no time.